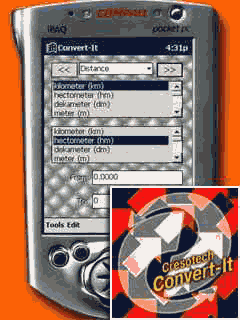 The program is compatible with all popular models of handheld computers. It supports adding and editing of your own sections and units.
System requirements and technical details:
Platform: Pocket PC
OS: Windows CE 3.0 / PocketPC2002-2003 / Windows Mobile
Processor: ARM, SH3, MIPS, XScale
Disk space: 500 Kb
Installation file size: 323 Kb
License type: shareware
Trial period: 30 days
Language: Russian
Price: 10 USD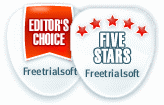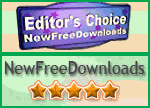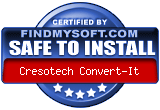 Convert-It contains a wide range of various measurement units. Easy and user-friendly software interface gives you the option to use a single tool to convert anything into almost anything. Do not refer to thick folios; do not spent your time and money searching for answers over the web — get all what you need in one touch.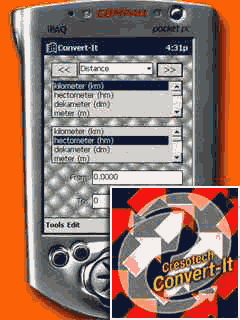 PocketPC version allows you to customize the color / pattern background of the program's working area, similarly to the desktop background of PC. You can choose a background image from the collection supplied with the program, or set any fill color. For example: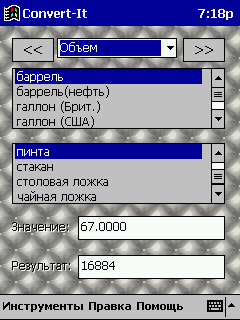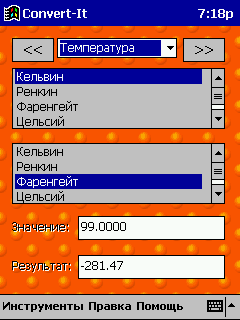 Palm version looks like this: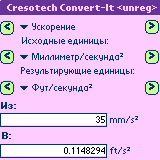 General view of the main program window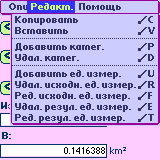 Unit categories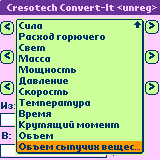 Edit menu allows you to add new categories, units, etc.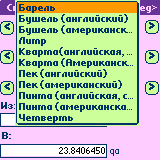 Measurement units