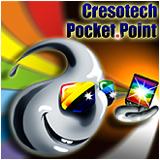 An easy PDA based multimedia tool to create photo presentations or review photo albums simply and quickly.
System requirements and technical details:
Platform: Pocket PC (all popular models)
OS: Pocket PC
Processor: ARM, SH3, MIPS, XScale
Disk space: 500Kb on Pocket PC
Installation file size: 1,2 Mb
License type: shareware
Trial period: 10 days
Language: Russian, Ukrainian
Price: 10 USD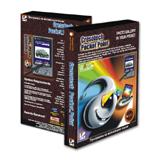 You don't need any special skills or experience to use it, and your photo gallery will be always at your disposal in your pocket.
Arrange the slide show of your photos made during last vacation, create the commercial presentation of your company or your products — even a child is able to easily do it with PocketPoint. All you need to do is select the necessary images for Playlist, and… That's all! Just press Start Presentation button and enjoy the great show!
If you are sales manager promoting the goods of your company on the market, PocketPoint is optimal solution for you. It allows you to have all your ads ready in your pocket and hold a presentation anytime anywhere.
If you are collector, PocketPoint provides you with option to show your collection to friends or colleagues avoiding the unnecessary risk taking the physical samples along with you.
PocketPoint is supporting most popular graphical formats. Adjustable features and detailed reference system make the program user-friendly and easy-to-understand.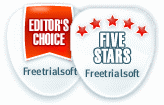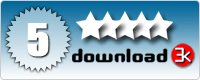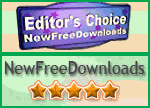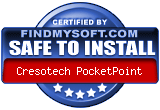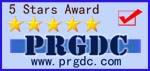 The screenshots below are shown exactly like you will see it on the screen of your pocket PC.
Navigate through your image collection with four buttons to the left. The currently selected image is shown in the central area; it may be seen in 1:1 size or resized to fit screen. Any time you wish to start an automatic presentation of the images selected for reviewing, press Start Presentation button (red one with zig zag symbol on it). Press «i» button to check image properties.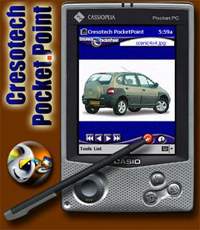 These screenshots feature the different program screens — previewing images; creating image list; reviewing image properties; program details screen. You can select any background color; future program version will also allow you to select other skins for main window.